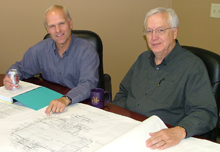 With a combined experience of over 65 years, David W. Haugland and Keith W. Jones have worked on some of the most publicly noticed structures in the Treasure Valley in Idaho. It is difficult to drive through the City of Boise and surrounding area without coming in contact with a structure that AHJ engineers has been involved with.
Keith Jones, PE, SE
Keith has been a mainstay in the design community for over 35 years. His engineering expertise and problem solving know-how can be evidenced throughout the Treasure Valley, the Northwest, and around the world in numerous significant structural landmarks. In his varied experience with all types of buildings, he has developed a skillful passion for historic restoration work. His appointments to various boards and committees over the years have helped shape and enhance the design profession. As the founding principal, Keith's major focus is on marketing and client relations.
David Haugland, PE, SECB, LEED, AP
Prior to receiving his engineering degree, David worked in the construction trades for about 10 years. This experience provided valuable understanding of the importance of thorough detailing and cost conscious design. In his many years of managing the design of various building types, David has developed a dedication to problem free constructable designs and a proactive approach to project management. Except for a four year management position at a large engineered lumber corporation, David has been involved in consulting structural engineering since 1990. As principal, David manages training and engineering operations.